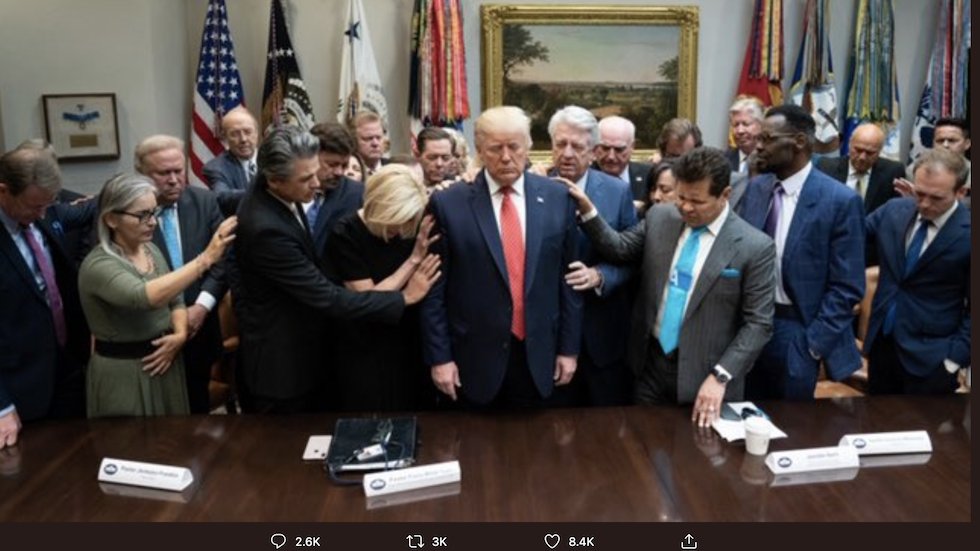 https://thehill.com/homenews/administration/468623-faith-leaders-pray-for-trump-at-the-white-house
Faith leaders including a number of Christian and evangelical pastors met privately with President Trump at the White House earlier this week to pray for him and the nation as a whole.

Televangelist Paula White-Cain, who was in attendance at the meeting, tweeted a photo on Thursday of the leaders and Trump in prayer.

"Honored to pray for @realDonaldTrump and our nation!" she tweeted.

"Also discussed the many great accomplishments under the leadership of President Trump. He continues to work tirelessly on behalf of the American people."
The White House announced Thursday that the televangelist would be joining its staff as a member of the Office of Public Liaison, where she will advise the administration's Faith and Opportunity Initiative that aims to boost the voice of religious groups in certain government programs.

White House deputy press secretary Judd Deere said in a statement on Tuesday that Trump met with faith leaders earlier in the day in the Roosevelt Room of the White House, saying "they took the time to pray for the president and for the nation."

"The leaders discussed the Administration's many accomplishments for the American people and how the communities they represent from across the country are benefiting from these important policies," Deere added.